Bibby Line Group // 23rd July 2020

In May, the Group came together to celebrate Mental Health Awareness Week (MHAW) with a co-ordinated programme of activity.
This year's theme for MHAW was kindness, a theme particularly relevant in light of the challenging circumstances every one of us is facing at the moment.
In his video update (available below), BLG CEO John Cresswell was keen to promote the importance of kindness and looking after each other:
"Across the Group we are putting special emphasis on mental health. It's really important that all colleagues are able to share the stresses and strains that people are going through.
"The theme for Mental Health Awareness Week this year is to be kind, and to do an act of kindness. One of my favourite sayings is by the comedian Robin Williams who said 'You should be kind to everyone, because you don't know what they're going through'.
"We all appreciate that the world we are living in at the moment does have its own particular pressures. So really do to speak to someone in the business, speak to your line manger, speak to one of our mental health first aiders, and make use of the charities and NHS guidance out there. It's really important. 
"You are not alone and everyone here is to support you as much as we can through this time".
The week of activities is part of the Group-wide Inclusion and Diversity Team's annual calendar of events designed to celebrate the diversity of our teams and encourage an inclusive culture.
Here is a round of some of the activity that took place:
Bibby Distribution recognised that looking after our mental health is always important and pulled together a small team including SHEQ and HR colleagues and mental health first aiders to set out a programme of activities including:
Raising awareness of mental health issues by providing resources to help colleagues understand more about their own wellbeing and also the dynamics of their team
Celebrating kindness with an overwhelming response by colleagues choosing to trust each other and share their own personal experiences through their 'Working Together' Facebook page
A range of social activities for colleagues to connect including virtual tea breaks, a Bibby quiz, and a virtual book club and sharing hand hearts (below)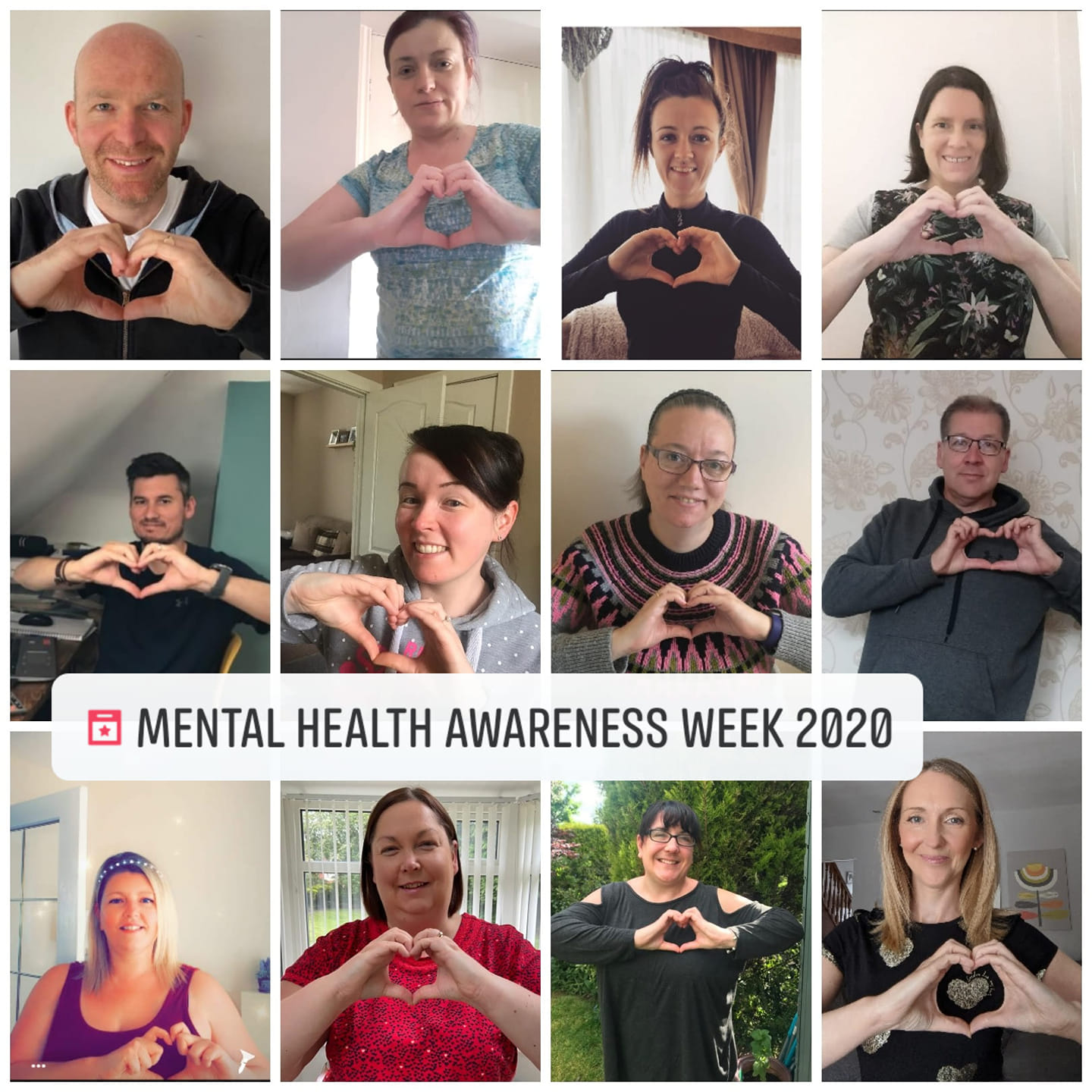 Bibby Financial Services ran a full week of events to promote MHAW with their colleagues, with many of their activities inspiring similar activity across the Group. Highlights included:
A celebration of volunteers, and sharing of stories of kindness by colleagues
Colleagues encouraged to wear green and share photos of hand hearts
Local teams organising online events of their choice including tea and cake, quizzes, dinner or a group chat about kindness to support one another
July was also wellbeing month in BFS, where the team promoted various activities to help improve physical and mental wellbeing including a different activity each week. This included encouraging colleagues to explore new walks and taking up running or cycling, while also providing tips, hints and encouragement to support colleagues to achieve their personal goals.
Garic ran a host of different innovative activities throughout the week to shine a light on mental health including:
Bringing mental health to life by sharing the personal story of an ex-colleague, that has experienced depression
Launch of internal 'Thank You' cards to encourage positivity and recognise colleagues and the support they give
And the 'Design your own Welfare Van' mindfulness colouring competition (one of the winners below)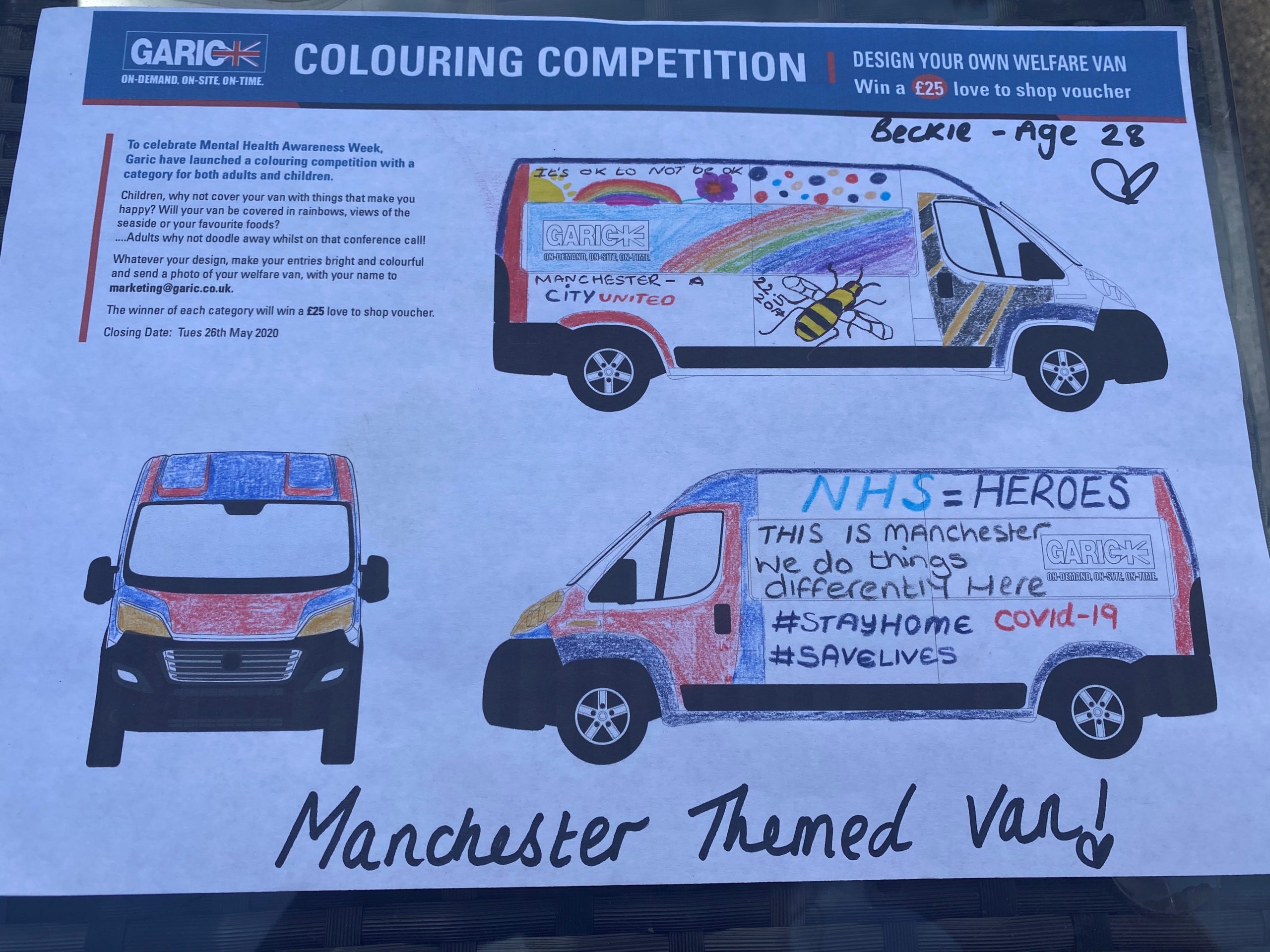 Costcuttuer Supermarkets Group also led a full programme of colleague engagement activity and truly embraced MHAW in 2020 with a week of innovative activity including:
Launching the 'take an hour to be kind to yourself this week' campaign encouraging colleagues to take an hour back for themselves
Store managers and colleagues encouraged to call out acts of kindness and thank yous they have had from other colleagues and in their local communities
Sharing resources including TED talk and video content on the importance of kindness, and generating discussion about how we can continue to make kindness part of the future CSG culture
Bibby Marine also hosted a week of activity that focused on helping improve colleagues' mental health and encouraged kindness. Highlights included:
Colleagues encouraged to celebrate MHAW by wearing green, and share their own stories of random acts of kindness
A virtual game of bingo to connect with one another, with entry money being donated to a mental health charity
Nominating colleagues who have been kind and sharing stories across the team.
Bibby Line Group head office team also ran a programme of activity to support colleagues using a mixture of online resources and social events. Highlights included:
A virtual cake, coffee and catch-up for head office colleagues and fun mental health themed quiz
Sharing resources and video including an invitation to take the quick online NHS Mind Plan Quiz that offers tailored advice and tips
An online 'Headspace' mindfulness session for colleagues to take a 30 minutes timeout
John Cresswell also issued a video update to the Group that included his message regarding the importance of mental health and looking after each other:
You can find out more about Mental Health Awareness Week here.