Bibby Line Group // 11th December 2018
Company hits £10million charity donation milestone
2018 Winners announced at special Awards Lunch
Sir Michael Bibby receives first 'Fellowship' award
Employees of Bibby Line Group (BLG) are celebrating the news that they have raised a staggering £10million for charity, since the launch of the company's Giving Something Back initiative just over ten years ago.
The milestone figure was revealed at the business' annual charity awards ceremony on 7th December, which celebrates the achievements of BLG employees in supporting good causes.
In 2018 alone over £331,000 was donated to charity via colleagues and the company. Watch our 2018 highlights video here: https://vimeo.com/305722776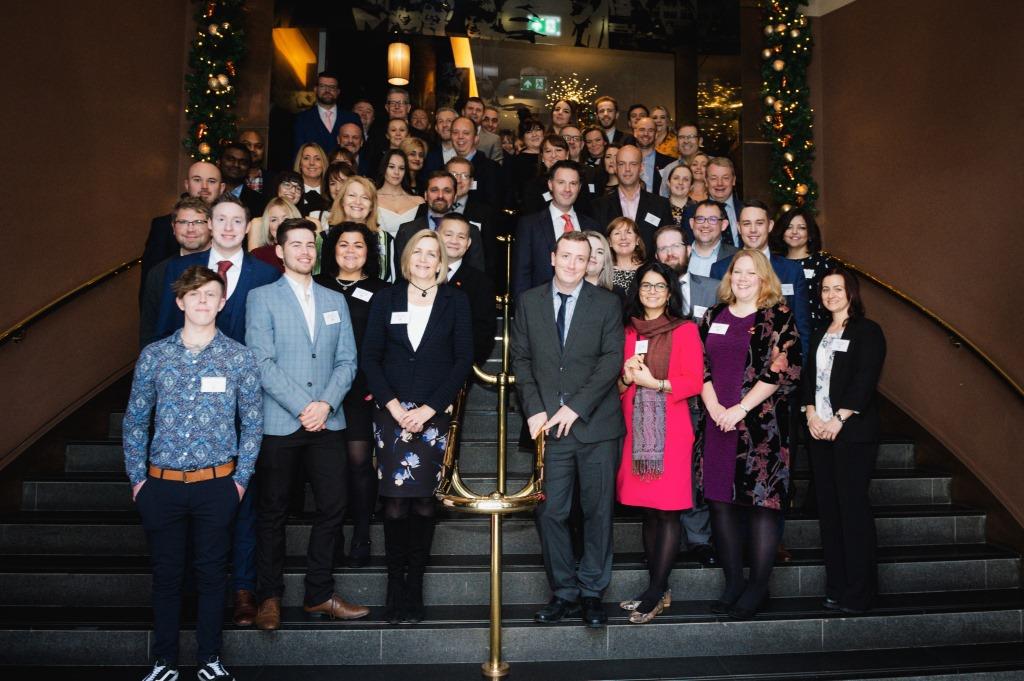 During the awards, employees talked about how they had volunteered, fundraised and tackled special company challenges, including a trek through India. 
Representatives from different organisations including The Salvation Army, Petty Pool and Charities Trust also talked about their work in the community.
Bibby Line Group non-executive director, Sir Michael Bibby, who established the programme during his time as Managing Director, received a special award at the ceremony in honour of his contributions over the last 10 years.
He said: "When we set the programme up in our bi-centenary year, we wanted to do the right thing and support the communities we work in. Since 2007 the company and our colleagues have helped hundreds and thousands of people up and down the country.
"The passion that our colleagues have for supporting their local charities is amazing, and through our GSB programme, we help them support the causes they care about most."
John Cresswell, BLG CEO who helped present the awards said:
"Our colleagues are truly inspirational. When I listen to their stories, and their amazing efforts to help local communities by raising money and volunteering for charity, I am immensely proud.
"As a company that prides itself in working in harmony with our communities, we are keen to encourage and harness this passion and give something back to the good causes our colleagues care about."
Mike Day, Head of Sales for Bibby Financial Services – who organised a string of charity events throughout the year including Christmas Dinner for the elderly – won Outstanding Fundraiser, said:
"I didn't do it for an award, the rewards for me were last Monday seeing so many happy faces and also the positive responses from guests, introducers and colleagues. That said, it's always nice to be recognised by your employer"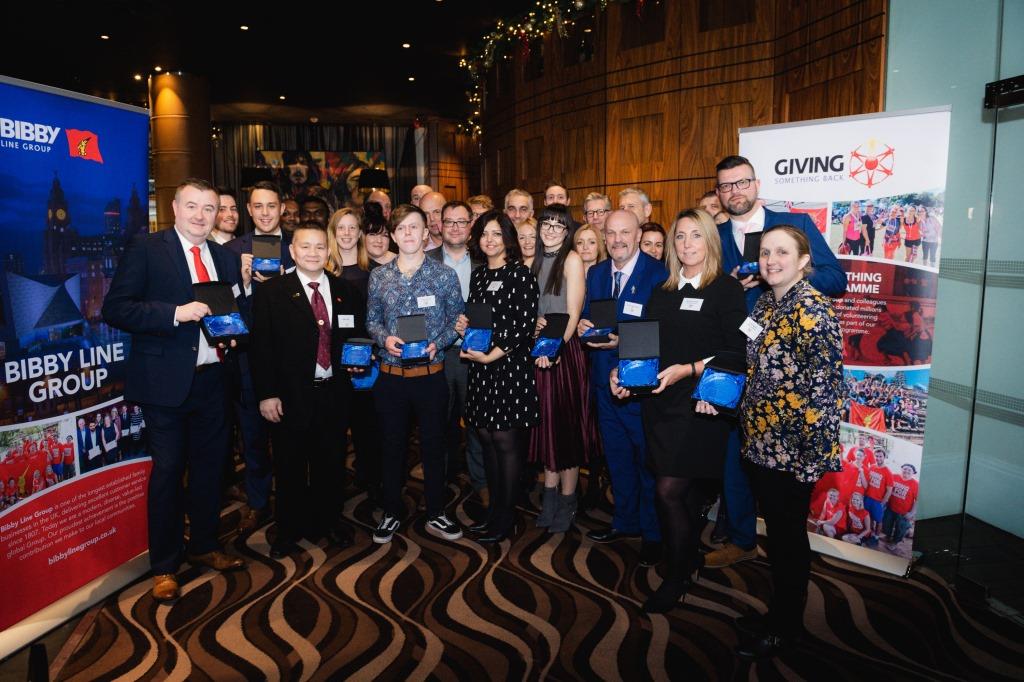 The 2018 GSB winners and highly commended
All 2018 winners: L-R, Sam Dasari (CSG), Sir Michael Bibby (BLG), Kiren Konetti (CSG), Robbi Moore, (CSG), April Fitzgerald-Hudson (BHL), Mike Day (BFS), Michaela Wright (BDL), Leon Massey (Garic), Amy Pugsley (BDL)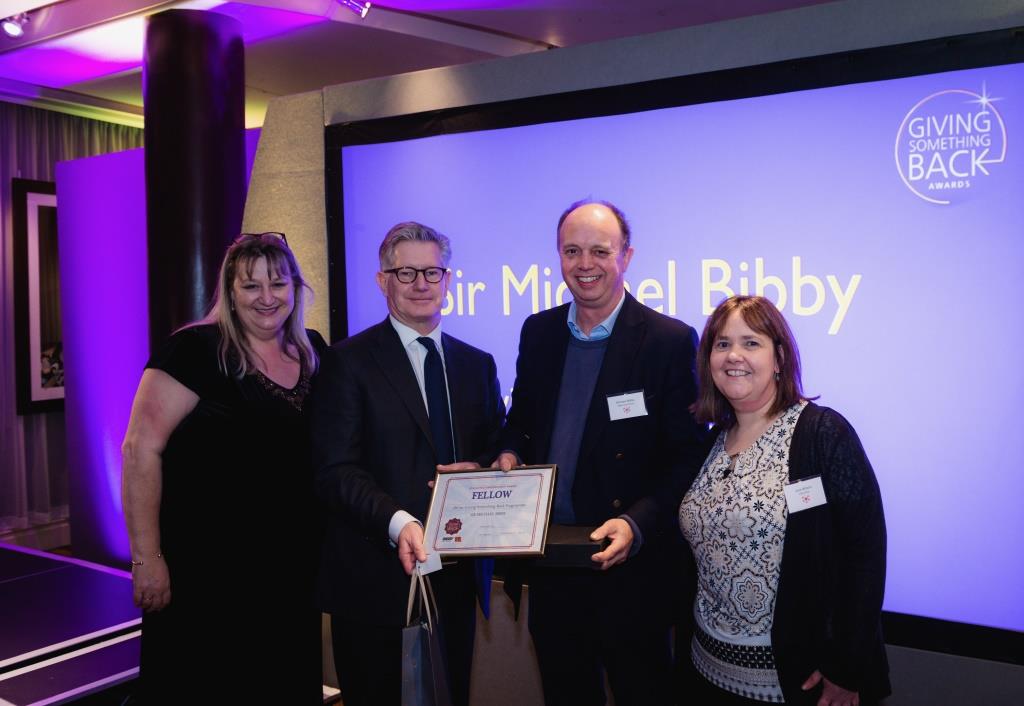 Sir Michael Bibby receives his award from BLG CEO John Cresswell, Charities Trust CEO, Linda Minnis and Jayne Wilson CEO of Petty Pool Vocational College & Outdoor Centre
The 2018 list of Winners and Highly Commended
Fellow of the Giving Something Back Programme
Sir Michael Bibby, Bibby Line Group
Outstanding Achievement
Winner 2018: Robbie Moore, Costcutter Supermarkets Group
(Robbie has worked tirelessly within Costcutter to raise awareness for charity including organising a charity ball, raffle and Tough Mudder)
Winner 2018: Michaela Wright, Bibby Distribution
(This is Michaela's 11th year of helping communities in Africa, and along with other events to raise money for the Teams4u charity, raising in excess of of £45k)
Outstanding Volunteer
Winner 2018:  Amy Pugsley, Bibby Distribution
(Amy took it upon herself to arrange a school uniform driver and helped over 100 families in Biggleswade with uniforms for their children)  
Highly Commended 2018: Spencer Barton-Hope, Bibby Line Limited
Highly Commended 2018: Conor Man McLennan, Bibby Financial Services
Outstanding Fundraiser
Winner 2018: Mike Day, Bibby Financial Services
(Mike Arranged a series of charity events including a darts match, volunteering days and dinner for 120 elderly people that are single and lonely at Christmas)  
Highly Commended 2018: Luke Passmore, Bibby Financial Services
 Highly Commended 2018: Phoebe Fenwick, Costcutter Supermarkets Group
Outstanding Innovative Idea
Winner 2018: IT QA Team, Costcutter Supermarkets Group
(The team organised an Indian Buffet meal to raise money for Kerala flood victims in an extremely short timescale) 
Highly Commended 2018: Benn Adu-Opoku, Bibby Distribution
 Highly Commended 2018: Leon Massey, Garic
Outstanding Team
Winner 2018: Conwy Raft Race Team, Bibby Hydromap 
(The team of 7 took part in an Open Day Raft competition against different raft teams on the River Conwy to raise money for RNLI)
Highly Commended 2018: Team Garic
Highly Commended 2018: Team India (cross-Group)
Highly Commended 2018: Transportation Finance Team (Nashville), Bibby Financial Services
Watch our 2018 Celebration video here 
View more images of the 208 Awards Ceremony here
The Giving Something Back Programme
Launched in 2007, the Giving Something Back (GSB) programme encourages employees to raise money for charities of their own choosing, through fundraising events, payroll giving, volunteering and co-ordinating special challenges. Bibby Line Group then matches the amount they have raised, pound for pound.
Since the programme began, employees have helped build a school in Tanzania, climbed Mount Kilimanjaro, walked The Great Wall of China, and taken on numerous other local challenges and initiatives, to raise money for their chosen causes.  More than 1,000 charities have been supported through the programme so far.
Bibby Line Group employs around 4,000 people, across six companies.