With the support of the Giving Something Back programme, Luke Froude, Bibby Financial Services Head of Client Service, has done an astonishing amount of fundraising in memory of his son Finnley, who sadly passed away in 2010. Here's Luke's story:
"Last year marked the 10th anniversary since our Son Finnley Froude was born.
"Finnley was born 3 months premature and weighed just 1lb 4oz. He was in hospital in Oxford for 125 days but sadly passed away before he came home.
"We have fundraised for the Charity that supports the premature baby unit at Oxford SSNAP (Support for the Sick Newborn And their Parents) for the last 10 years in his memory.
"Up until the 9th anniversary we had raised £89k. We wanted for his 10th anniversary year to raise just over £10,000 which would take us to the magic £100,000 in 10 years.
"In 2020 I planned to run 10 separate 10k races over the year and hoped to raise the last £10k. We started with organised events with friends but then the pandemic hit and we had to re think.
"We missed a month but then managed to organise solo runs where friends run at the same time but in their own locations and then later in the year we did run together (At a distance) to complete the 10 x 10k's .
"Our 3 year old son Henry even managed to complete a 1k kids race in memory of his brother dressed as Where's Wally in London in early March before the Adults did the 10k adult version.
"At the last race in December we ran and finished at the Banbury cross where unknown to us the SSNAP Directors and trustees had gathered (Distanced) and presented us with medals.
"We raised a total of £11,265.22 in 2021 for SSNAP including Bibby matching with many Bibby colleagues, friends and family taking part.
"This took us well over the £100k mark in memory of Finnley.
"The Bibby Giving something back programme is an amazing way to help and support your chosen charities and I would highly recommend everyone get involved some way."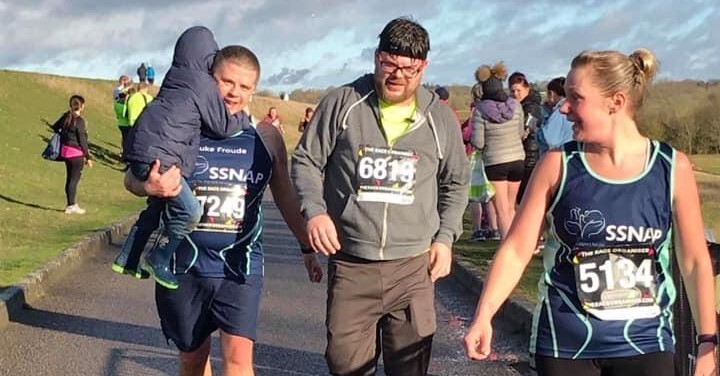 Luke (left) taking part in one of his charity runs